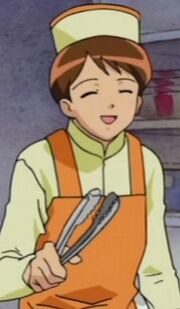 George is a quiet waffle vendor who doesn't talk much in the series, but he did once talk to Saga as one of his customers for always buying from him.
He chases out the piano Saga and the others are riding on.
Read more at http://myanimelist.net/character/20865/George#7eBLoCF37BSBVoA4.99
Ad blocker interference detected!
Wikia is a free-to-use site that makes money from advertising. We have a modified experience for viewers using ad blockers

Wikia is not accessible if you've made further modifications. Remove the custom ad blocker rule(s) and the page will load as expected.